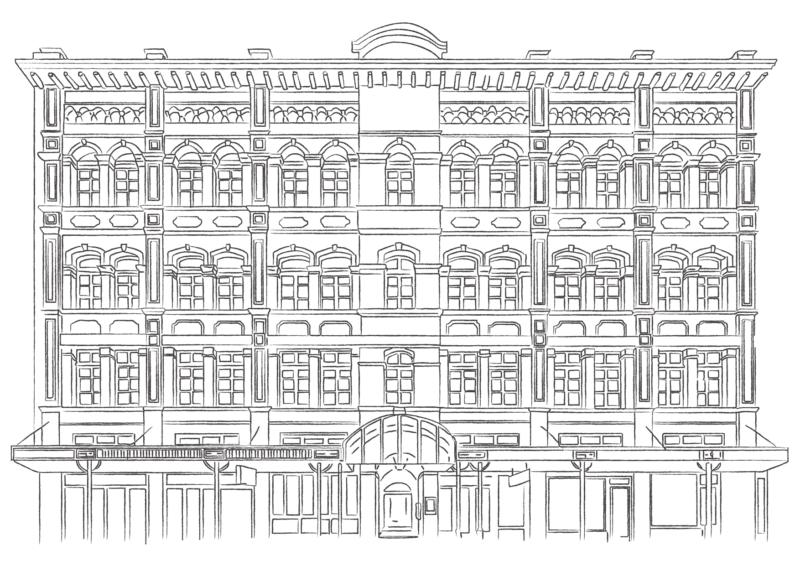 A bohemian cove for the creative soul.
Welcome to the Naumi Studio Hotel Wellington, an iconic Edwardian heritage landmark in the heart of bohemian Wellington.  After a recent extensive renovation this 112-room property has transformed into a spectacular sensory experience which enthrals guests with eclectic spaces  inspired from seafaring, the literary world and an enduring love.
With a grand private entrance on Dunlop Street, guests are transformed into a sensory experience with delightful common spaces that reflect the story of Lady Naumi – the fictional custodian of the Naumi Hotel (her portrait displaying proudly in the reception) – Drink at the bar, dine at Lola Rouge or laze in the sun trap of the lobby with its glass roof.
Location reigns supreme with the property sitting in the heart of all the Cuba St action.
Book directly
on our website
Enjoy your special benefits
The rooms at Naumi Studio Wellington have been lovingly renovated with a contemporary spin that still honours the charms of this unique heritage listed building.
Choose from six different room types, ranging from cosy and curated studios to exquisitely furnished Executive Suites adorned in a cacophony of botanical delights.
All our rooms feature eclectic touches from the old and new world. Its certainly safe to say our rooms are anything but ordinary!
The Best Studio Hotels In The World 2020.
For the sheer pleasure of a gorgeous abode, Naumi Studio Wellington recently set the bar anew.
Far from being a standard studio hotel.
The newly opened Naumi Studio Wellington really does have it all.

Great Airport Hotel! Fast check-in and check-out service. Although I got an economic room, it was still comfortable and lovely – no issues. Especially loved the Yellow Bus airport transfer. Naumi is also along the major public bus routes which I found convenient to get around and visit Auckland city.


Absolutely stunning this wonderful oasis in Auckland. Wonderfully friendly service by a staff who has mastered the art of friendly customer service. "YES WE CAN" is their mantra word to even the most undoable requests by a demanding guest. And the hotel is a museum full of heart. Look to get back soon, good willing. Naumi says: we love our… read moreAbsolutely stunning this wonderful oasis in Auckland. Wonderfully friendly service by a staff who has mastered the art of friendly customer service. "YES WE CAN" is their mantra word to even the most undoable requests by a demanding guest. And the hotel is a museum full of heart. Look to get back soon, good willing. Naumi says: we love our guests ❤❤❤❤❤